09-25-2012, 02:27 AM
(This post was last modified: 09-25-2012 02:34 AM by iAreNubcake.)
iAreNubcake
The Other Aaron

Posts: 972
Joined: Sep 2011
Reputation: 14
Alpha v.43
Well, the rag doll stuff still doesn't work quite right, but it's getting closer. Guess the big thing this time around is the change to the terrain rendering to handle level of detail changes better. Try plopping a few trees, then walking away to see it in action (increase display distance in SETUP.TXT to hide it more). Anyway, it's late -- hope y'all like it.

Changes from version 0.42...
[*] Added voxel tree plopper -- T key
[*] Added building plane -- right mouse button
[*] Added ragdoll stuff -- not perfect yet
[*] Added roof material
[*] Added leaves material
[*] Added bark material
[*] Improved fog effect for distance
[*] Improved speed of terrain rendering
[*] Improved distant terrain rendering
[*] Improved terrain rendering performance
[*] Improved Goblin model
[*] Improved bone weighting for IQE models
[*] Improved seam fixing for IQE models

Download link can be found on Kickstarter
---
09-25-2012, 07:01 AM
RE: Alpha v.43
Once home from work, this will be broken! >:D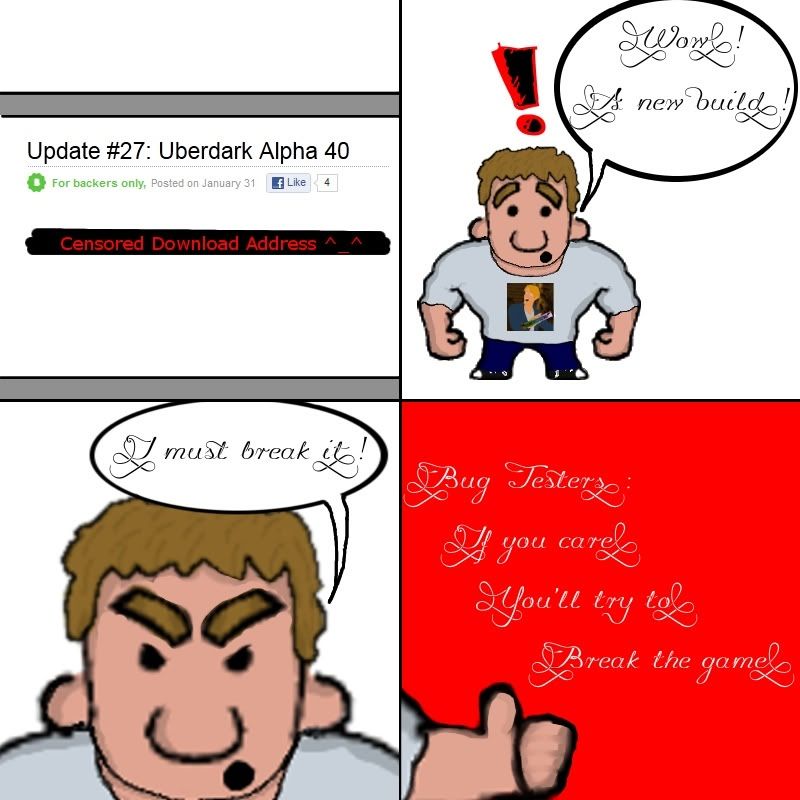 ---
"No Excuses. No Apologies. No Regrets."

10-03-2012, 07:17 PM
utahrapter3
Raptor Jesus' Reincarnation

Posts: 71
Joined: Sep 2011
Reputation: 9
RE: Alpha v.43
Yipee!
---
Why did Constantinople get the works?

That's nobody's business but the Turks'
10-24-2012, 11:24 PM
Electrk
hi

Posts: 75
Joined: Nov 2011
Reputation: 1
RE: Alpha v.43
Yay!!
I was starting to lose hope :c
11-01-2012, 01:56 PM
Cotton
Serf

Posts: 1
Joined: Nov 2012
Reputation: 0
RE: Alpha v.43
What happens to the people who have already bought the game but didnt do the kickstarter?
11-01-2012, 06:57 PM
iAreNubcake
The Other Aaron

Posts: 972
Joined: Sep 2011
Reputation: 14
RE: Alpha v.43
They get an e-mail with the link to the newest update as far as I know. I'm sure that system will be changed Soon™.

In all honesty, though, I think Aaron is a tad more concerned with working on the game than he is with fixing the Auth system. Perhaps someone else can work on the auth system for him...
---
05-29-2013, 04:55 PM
doritosbr
Serf

Posts: 1
Joined: May 2013
Reputation: 0
RE: Alpha v.43
oi
como jogar?
sou de brasil
User(s) browsing this thread: 1 Guest(s)